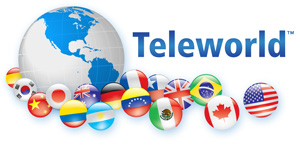 Teleworld™ Package Highlights
No contract
No setup fees
No porting fees
No cancellation fees
30-Day Total Satisfaction Guarantee
Free, unlimited calling to nearly 70 countries including the US & Canada.
Free local phone number (US & Canada)
Keep your own phone number or get a new one
911 service included (US & Canada)
Free Analog Telephone Adapter (ATA)
24x7 technical and customer support

Teleworld Brochure
What is Teleworld™?
Teleworld is a residential phone line replacement service that bundles unlimited worldwide calling, an analog home phone adapter, and a softphone to extend home phone service to smartphones and PCs. Teleworld offers free, unlimited calling to nearly 70 countries including the US & Canada. Customers can also keep their existing phone number or choose one from nearly anywhere in the world.
Teleworld™ for your Home
Consumers have many options for home phone service and they can all seem the same: a phone number, unlimited domestic calling, an adapter device, and a price around $25. Teleworld includes some valuable differences. With Teleworld you can keep your own number and there is no setup or porting fees. With Teleworld you not only get unlimited domestic US and Canada calling but unlimited calling worldwide - nearly 70 countries. With Teleworld you get an adapter for free and it arrives pre-configured - plug & ring ready. Even with all of these differences, Teleworld is about 25% less expensive per month than many popular options. What makes Teleworld different is simply that it's a better overall value.
Teleworld™ with your Smart Phone
The way consumers use their home phone service is changing. Having calls to their home ring simultaneously on their cell and being able to make voice and video calls - especially international calls - on their mobile phone using their home phone account, are two especially popular features. Teleworld offers these benefits and more when subscribers install a softphone (a software phone) on their iPhone or Android smartphone.